华泰电子拥有先进的仪器与实验设备,有能力依厂内及客户的回馈进行相关性的失败分析(Failure Analysis, FA ) ,进行持续性的品质改善。
■Curve Tracer
■SAM
■X-Ray
■SEM&EDX
■Digital Microscope
■High/Low optical Microscope
■Grinding/Polishing Machine
■Precison sectioning Saw
■Probe Station
■Laser Decap
■Ion Milling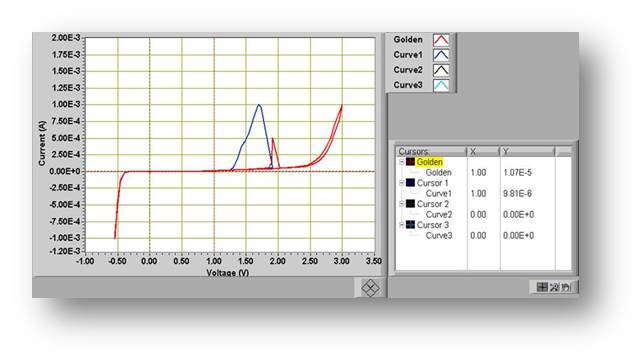 Curve Tracer
KEITHLEY 2600-PCT
Capability
30W, 2000V/0.1A,20V/1.5A
Application
Curve tracer is a electronic test equipment used to analyze the characteristics of semiconductor devices.
Capability
Real time observation
Application
X-ray is used for illustrate the internal structure through x-ray.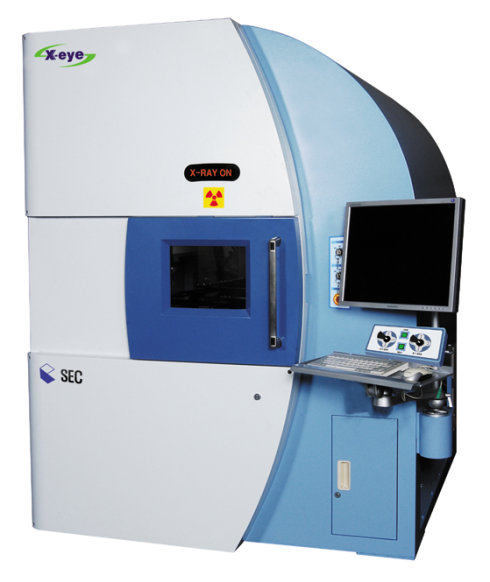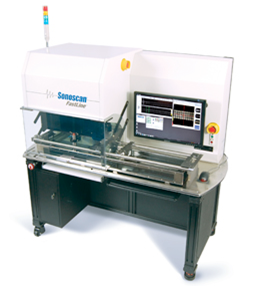 SAM (Scanning Acoustic Microscope)
Sonoscan P300
Capability
Transducer frequency:
10MHz/15MHz/30MHz/50MHz/100MHz
Application
SAM is used to examine, measure and photograph the IC structure with supersonic waves.
SEM (Scanning Electron Microscope) & EDS (Energy Dispersive Spectrograph)
Hitachi SU8010(SEM)
HORIBA X-max(EDS)
Capability
A/V.:0.5KV~30KV,
Magnification: 10X~100000X
Application
SEM is a type of electron microscope that produces images of a sample by scanning the surface with a focused beam of electrons.
EDS is an analytical technique used for the elemental analysis or chemical characterization of a sample.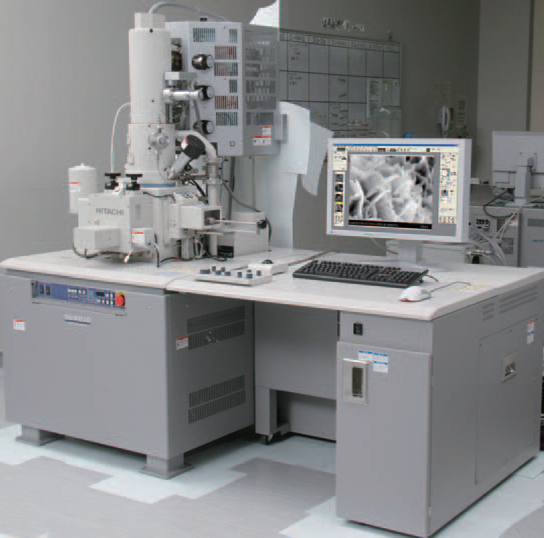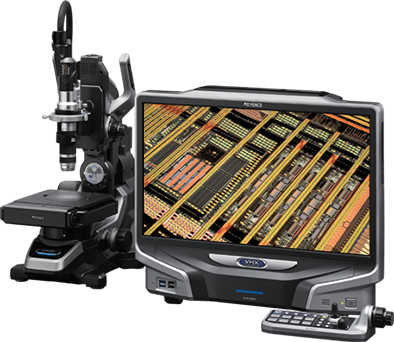 Digital Microscope
KEYENCE VHX-6000
Capability
Real Zoom Lens: 20~200X/ 100X~1000X
Application
Digital microscope is an optical microscope that uses optics and a digital camera to magnify the sample with 3D contrast (DOF) to output to the monitor .
High/Low Power Optical Microscope

Nikon LV150

Capability
Eyepiece: 10X
Objective Lens:
2.5X/10X/20X/50X/100X
Application
High/Low Power Optical Microscope is a type of microscope to use visible light and a system of lenses to magnify the preliminary inspection of sample surface structure.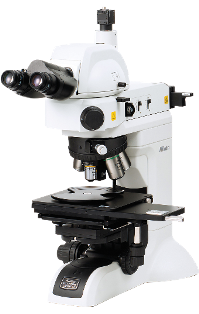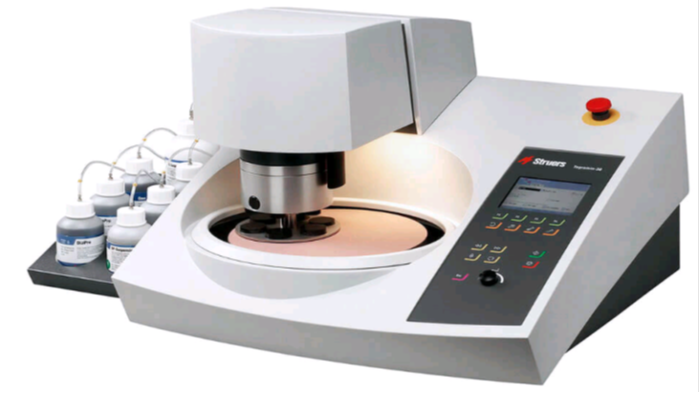 Grinding/Polishing Machine
Struers Tegramin-20
Capability
Variable platen speed:
40~600 rpm
Application
The Grinding and Polishing machine is the tool used to grind/polish the sample near-by the suspected point for further investigations.
Precision Sectioning Saw
Allied 20-1000
Capability
Various Blade Type, Max Speed:4000 rpm
Application
Precision Sectioning Saw is the machine tools used for cutting the sample before grinding.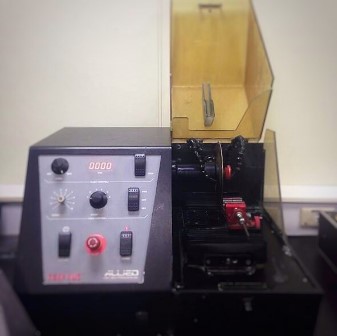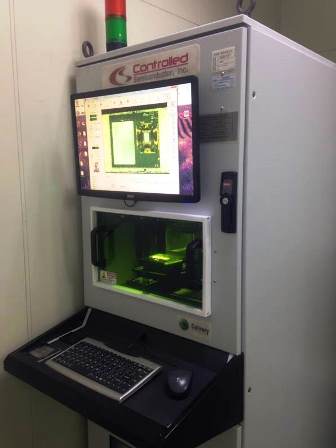 Laser Decap
Con Semi FAT cat II
Capability
I.R. Laser: 20 watt
Application
Laser Decap is the process of removing the protective cover of a microchip so that the contained die is revealed for visual inspection of the micro circuitry imprinted on the die.
Ion Milling
Hitachi IM4000
Capability
A/ V : 0 to 6 kV
Milling rate (max.) : (Materials Si)
For X-section milling: 300μm/hour
For Flat milling: 2~20μm/hour
Application
Ion milling machine thins the sample until it is transparent to electrons by firing ions at the surface from an angle and sputtering material from the surface.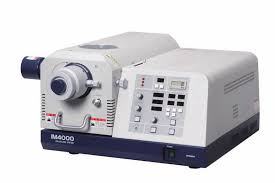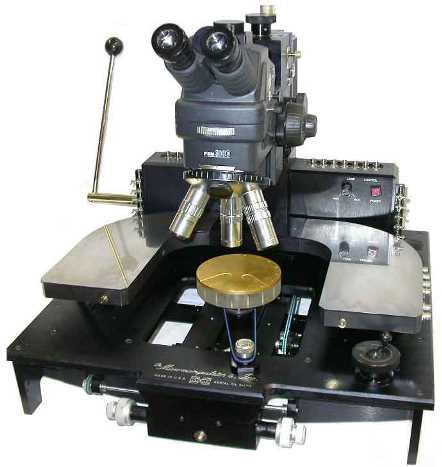 Capability
4 Manipulator
Application
Probe station is used to physically acquire signals from the internal nodes of a semiconductor device.
Failure Analysis Equipment

S/N
Equipment
Manufacturer
Model
Set
Capability
1.
High/Low Power Optical Microscope
Nikon
LV 150
1
Eyepiece:10X, Objective Lens:2.5X/10X/20X/50X/100X
LV 150N
1
OPTIPHOT-150
1
Eyepiece:10X, Objective Lens:5X/20X/50X/100X
2.
Digital Microscope
KEYENCE
VHX-1000
1
Real Zoom Lens: 20~200X/ 100X~1000X
3.
X-ray
Fein Focus
FX100.20
2
Real time observation
SEC
X-eye SF-160
1
Real time observation
4.
SAM (Scanning Acoustic Microscope)
SonoScan
P300
1
Transducer frequency: 15MHz/20MHz/30MHz
5.
Curve Tracer
KEITHLEY
2636B
1
Resolution: 1fA/1uV
6.
Laser Decap
Con Semi
FAT cat II
1
I.R. Laser: 20 watt
7.
SEM (Scanning Electron Microscope)
Hitachi
S-3500N
1
A/V.:5KV~20KV, Magnification: 10X~100000X
SU8010
1
A/V.:0.5KV~30KV, Magnification: 10X~100000X
8.
EDS (Energy Dispersive Spectrograph)
HORIBA
X-max
1
Z: 5~92, detector area:50mm²
9.
Probe Station
MM
6000
1
4 Manipulator
10.
Cross Section Machine
Allied
MET PREP 8
1
Variable Speed Control: 40~500 rpm
M-PREP5TM
1
Variable Speed with digital display: 10-500 rpm
Struers
Tegramin-20
1
Variable platen speed: 40~600 rpm
11.
Ion Milling
Hitachi
IM4000
1
A/ V : 0 to 6 kV Milling rate (max.) : (Materials Si) For X-section milling: 300μm/hour For Flat milling: 2~20μm/hour
12.
Precision Sectioning Saw
Allied
20-1000
1
Various Blade Type, Max Speend:4000 rpm
华泰电子依据IATF 16949以及ISO 9001建立品质管理系统体系,发展以客户为导向的管理流程,善用多项品质管理工具,持续衡量与监控各项流程的效率与有效性,来满足客户需求与期待,以提升竞争的优势。